Pensado's Place Partnership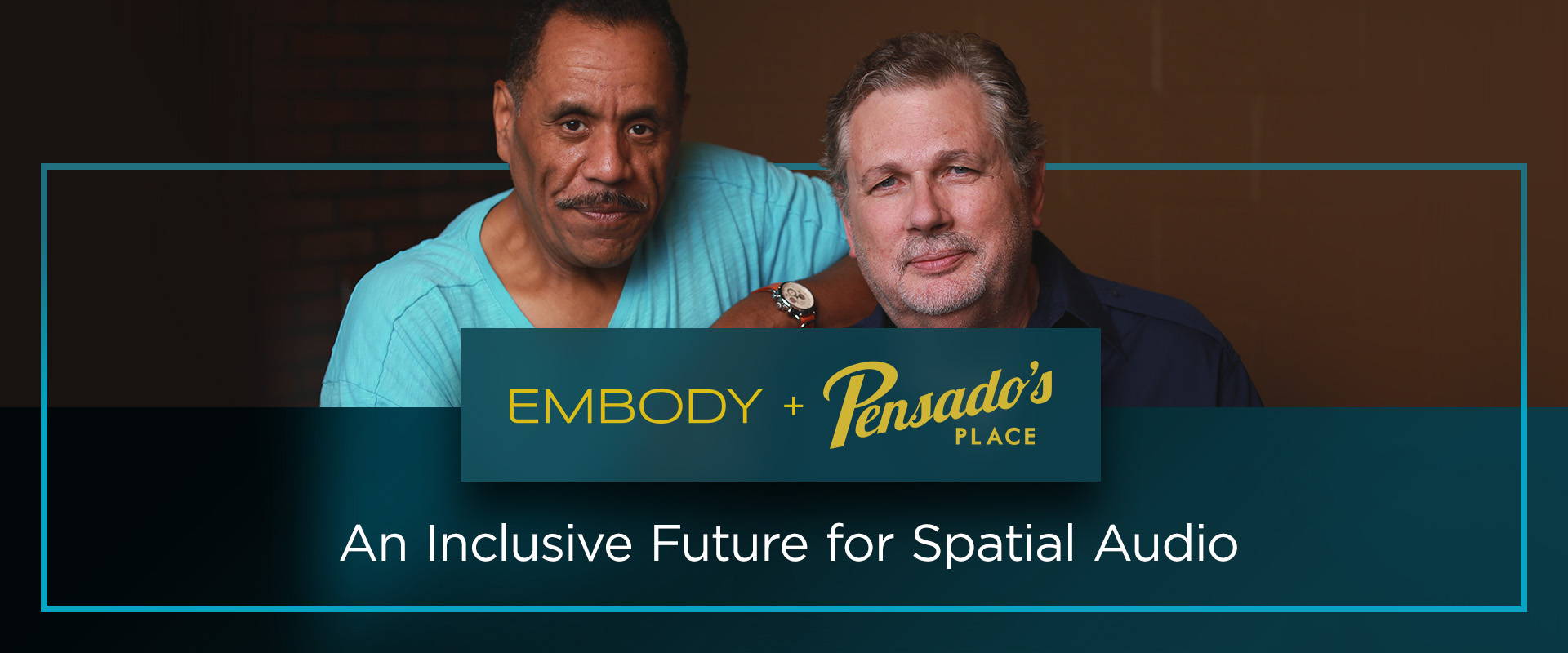 EMBODY + PENSADO'S PLACE PARTNERSHIP
A PLATFORM FOR SPATIAL AUDIO EDUCATION
The New Frontier of Immersive Sound
Spatial audio has officially entered into the mainstream across all media, but effective tools and education surrounding its production are still lacking. To address this, Embody, world leader in personalized spatial audio technology, and Pensado's Place, the premiere hub for thought leadership in the pro audio space, are partnering to build a platform which seeks to inspire and empower more creators to explore the exciting new frontier of immersive sound.
Grassroots Innovation
While the conversation surrounding spatial audio production has been dominated by large companies such as Apple and Dolby, some of the most exciting technological innovations are coming from smaller players - like Embody. Recognizing that access to a properly tuned Atmos room is still out of reach for most artists, Embody has already designed powerful personalized virtual Atmos monitoring tools that improve access to and scalability of spatial production for at-home producers and major studios alike. And this is just the beginning of Embody's mission. 
The core of Embody's innovation is driven by AI, which is used to create personalized HRTFs for every user. This results in virtual monitoring environments with realistic height, depth-of-field, and crosstalk far beyond the capabilities of other virtual monitoring tools. Further innovations are underway to streamline the virtual spatial audio production workflow in a way which is unrestricted by proprietary standards. This places Embody's goals firmly in alignment with Pensado's Place, who shares in the belief that immersive storytelling should be for everyone - not just the big players.
Advancing the Spatial Audio Conversation
Over the course of this partnership, Embody and Pensado's Place will collaborate on a series of content and live events intended to advance the conversation surrounding spatial audio production. Legendary mix engineer Dave Pensado and Herb Trawick will be joined by members of the Embody team and other top mixing and mastering talent to discuss the state of the industry, the challenges it faces, and the latest spatial audio production tools and techniques. 
"The absolute necessity of innovative audio technology is now part of all our lives. That requires cutting edge thinking, companies and individuals. Embody is every bit of that."

- Herb Trawick, Pensado's Place
Inspiring Artists to Create in Spatial
Creators will be able to actively take part in the conversation through spatial audio mix contests. Participants will have the opportunity to employ the latest in immersive production technology to create spatial content which will be judged by the experts behind some of the most influential spatial audio content in music, film, and television. Hardware and software prizes will be provided by Embody and other strategic partners.
An Inclusive Future for Spatial Audio
If the spatial audio industry is to reach its full potential, it's critical for a platform to exist which supports and amplifies the voices of innovation. Embody and Pensado's Place are proud to lead the way in building just such a platform, which will foster a brighter and more inclusive future for spatial audio production for all.