SAVE 50% ON ALL IMMERSE GAMING SOFTWARE.
AUTO-APPLIED AT CHECKOUT.

SAVE 50% ON ALL IMMERSE
GAMING SOFTWARE.
AUTO-APPLIED AT CHECKOUT.

SAVE 50% ON ALL IMMERSE GAMING SOFTWARE.
AUTO-APPLIED AT CHECKOUT.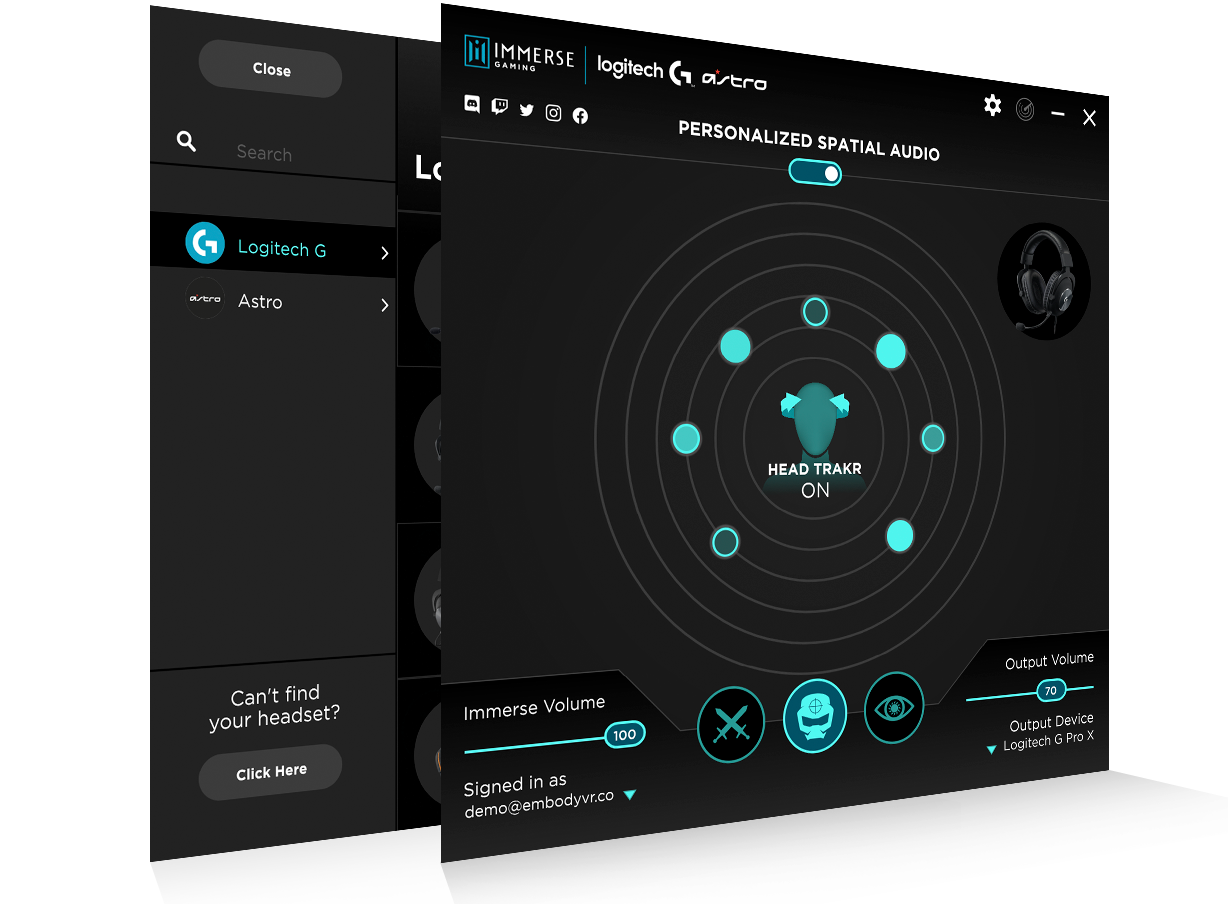 Immerse Gaming | Logitech
Personalized Spatial Audio with head tracking
Experience Personalized Spatial Audio with Head Tracking on any PC game, with any Logitech G or ASTRO headset. Hear audio above, around, and behind you with unparalleled depth and realism. Hone your senses for faster reaction times and sharpened accuracy.

• Game with your personalized HRTF: Immerse delivers more realistic and accurate spatial audio by putting "You" into the game.
• Head Tracking with Any Webcam: Significantly improve your ability to seperate front vs rear sounds in headphones.
• Tuned for Logitech G and Astro: Enjoy an optimized sound experience with hand-tuned EQ presets for all Logitech G and ASTRO headsets.
• Competitive Advantage: Use your ears more effectively in the competitive meta.
• A New Experience for all PC Games: Yes, all PC games.
• Stream with Spatial Audio: When you stream or record with Immerse, your audience will hear what you hear.

Auto-renews, Cancel anytime
Auto-renews, Cancel anytime
DOWNLOAD 2-WEEK FREE TRIAL
ENHANCED SOUND SEPARATION
Integrated head tracking
Use any webcam to bring head tracking to your personalized spatial audio experience. Micro-head movements help us determine if sounds are coming from in front, behind, or above us. By tracking them, Immerse significantly improves your ability to hear sound direction in headsets.
Tuned for Logitech G and Astro
UPGRADE YOUR ARSENAL
Upgrade your favorite headset with the world's most advanced spatial audio technology. Immerse includes specially designed EQ presets for all Logitech G and ASTRO gaming headsets.
EQ presets for:
G332/G331, G333 K/DA, G333VR, G432/G431, G433, G533, G633, G635/G633s, G733, G933, G935/G933s, Pro Gaming (2017/2019), Pro X, Pro X Wireless, Prodigy, A10 Gen 1, A10 Gen 2, A20, A50, A40TR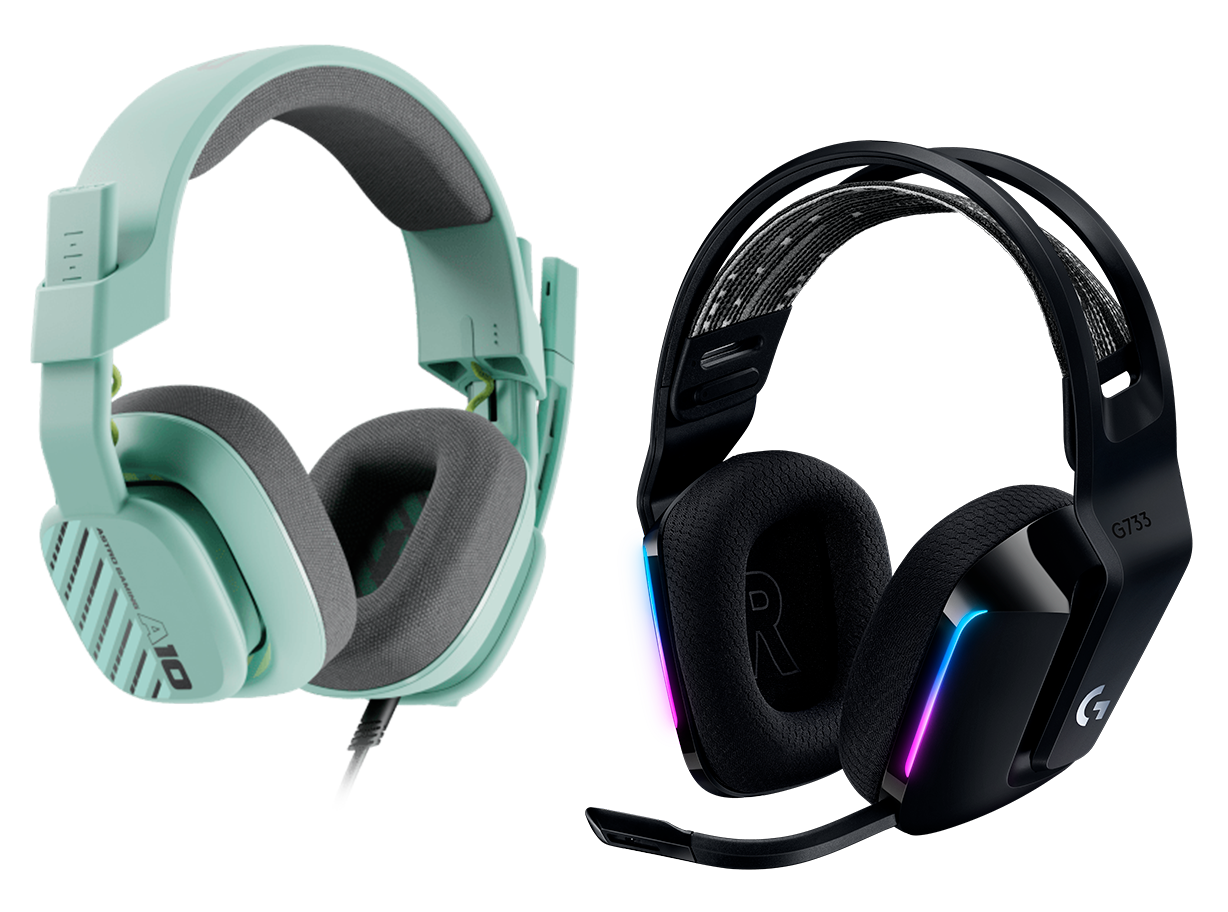 SPATIAL AUDIO REDEFINED
By harnessing the power of AI, Immerse empowers every gamer to realize their unique potential. Hone your senses for faster reaction times and greater directional accuracy, and embrace the power of fully personalized spatial audio.
AI Personalization
Unlike other spatial audio solutions which rely on generic HRTF processing, Immerse calibrates itself completely to you. Put yourself into the game and experience spatial audio in a way that's never been possible before.
AI Head Tracking
Thanks to machine learning, the traditional limitations of camera-based head tracking are now a thing of the past. The Immerse AI ensures that your webcam's performance won't suffer due to factors including light saturation and skin pigmentation bias.
COMPETITIVE ADVANTAGE
HONE YOUR ACCURACY
If you can hear your opponents better, you can shoot at them faster! Immerse is statistically proven to increase directional accuracy in FPS games. Locate audio cues with incredible precision and swiftly hone in on your enemy's position.
Immerse is not an aimbot, but with practice and skill it can help you use your ears more effectively in the competitive meta.
⬤ Sound Origin
⬣ Directional Accuracy with Immerse
◯ Directional Accuracy without Immerse

Game Genre Presets
Select from 3 spatial imaging presets that shape your listening experience.
IMMERSE MODE
Experience greater separation between front and rear sounds for improved directional accuracy.
Ideal for FPS, All Around Standard
Close Combat Mode
Sounds are pulled closer to your head in order to create a greater sense of visceral impact.
Ideal for RPG, Horror, Racing
Awaken Mode
The sound field is expanded evenly for enhanced awareness of off-screen audio cues.
Ideal for MOBA, Isometric
Create Immersive Content
Stream with Spatial Audio
When you stream or record with Immerse, your audience will hear the same spatial audio you hear. Create an immersive listening experience on any platform, no multichannel streaming required.
IMMERSE GAMING AFFILIATE PROGRAM
Immerse Gaming is proud to sponsor the next generation of immersive spatial audio content creators. Earn 10% recurring commission, secure prize sponsorships for your next event, and have your content promoted on official Embody and partner channels!
Sign up for our affiliate program today!
| | |
| --- | --- |
| Audio Format | Stereo, 5.1, 7.1, and Home Theater |
| Sampling Rate | 8-96kHz (48kHz default) |
| Audio Bit | Depth 8-32 (24bit default) |
Minimum System Requirements
| | |
| --- | --- |
| Processor | Intel Core 2 Duo or AMD Phenom X3 |
| Memory | 2GB |
| Disk Space | 100MB |
| DirectX | Version 9.0c |
| | |
| --- | --- |
| Win OS | Windows 10 and 11 |
| Headsets | All Logitech G and Astro gaming headsets |
| Webcams | All webcams |
what's the difference between spatial audio and surround sound?
Not all spatial audio is surround sound, but virtual surround sound is one example of spatial audio. Surround Sound specifically refers to the output format of the audio mix - 5.1, 7.1, etc. Spatial Audio, on the other hand, is the technology which allows you to hear the surround sound mix inside of headphones as though you were listening to speakers in a room.
Immerse Gaming allows you to hear any PC game's stereo or surround sound mix inside your headphones as Personalized Spatial Audio.
SO I CAN EXPERIENCE IMMERSIVE SPATIAL AUDIO WITH ANY GAME?
As long as the game is on PC! For now, Immerse Gaming spatial audio software is only available for PC.
NO SUPPORT FOR XBOX OR PLAYSTATION?
We love console gaming too, but our solution is made for PC only. Maybe one day we'll have something for all the console gamers out there too...
why do you need my ear picture - isn't that kind of weird?
The Immerse AI uses a picture of your right ear to create a completely unique HRTF profile just for you! And when we say unique, we really mean it - no two users will ever have the same HRTF profile.
does hrtf personalization really make that big of a difference?
Personaliation may seem like the "cherry on top" of spatial audio technology, but it actually makes a HUGE difference. When listening to spatial audio with someone else's HRTF vs your own, you'll find that sounds are not as accurately positioned. The effect is especially notable for sounds behind and above you.
If you're still skeptical, we encourage you to experiment! Create an HRTF profile in your Immerse Gaming software using someone else's ear, then compare it to your profile. Do you hear a difference?  
HEAD TRACKING? WHY WOULD I MOVE MY HEAD WHILE I'M GAMING?
Look, nobody expects you to be turning your head left and right while you're playing a game - that's not the point of head tracking. Our heads are constantly in motion, and our brains take that into considertion when localizing sound in the real world (or meat-space in the audio dev parlance).
Our AI is able to use any webcam to track the micro-movements of your head. That information gets added in real-time to your personalized spatial sound field, then voila - you get a more realistic 3D sound experience!
What if i don't have "the best" webcam?
Don't worry - we have the power of AI. Thanks to machine learning, Immerse can use the feed from any webcam to provide low latency head tracking to your spatial audio experience! We've even accounted for things like light saturation, skin pigmentation bias, and body modifications - so your head tracking performance won't drop for those sorts of reasons.