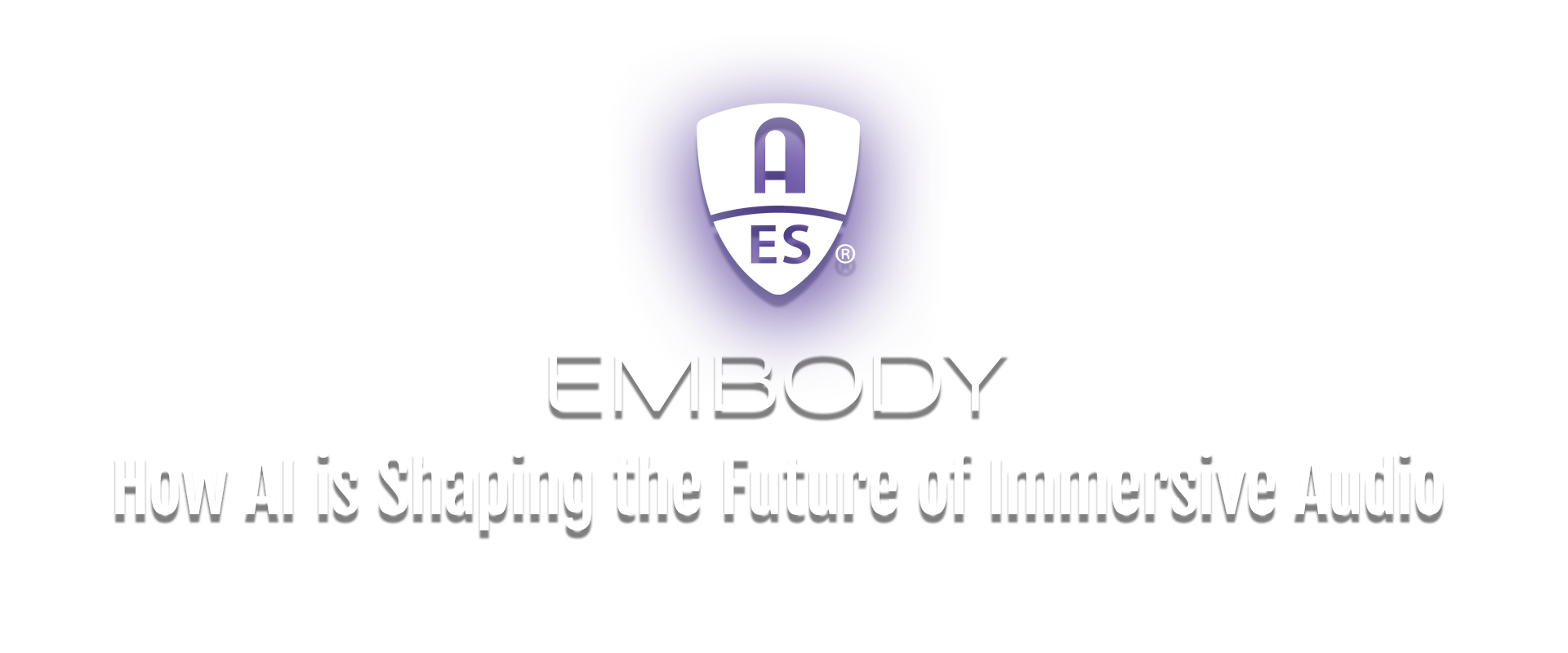 EMBODY AT AES 2023

HOW AI IS SHAPING THE FUTURE OF IMMERSIVE AUDIO
We're honored to join other spatial audio industry leaders at this week's AES 2023 International Conference on Spatial and Immersive Audio, held at the University of Huddersfield in the United Kingdom. In addition to presenting our research on several AI related topics, we'll also be moderating two panel discussions joined by engineers and researchers from Microsoft, Meta, Playstation, Dolby, and Treble.
Although spatial audio has rapidly gained popularity in recent years, the creative potential of the technology has only just begun to be realized. Now more than ever, it's important for developers to learn from each other and join our voices in discussion of the challenges and opportunities that await us. We're grateful to be counted among those who are shaping the future of immersive audio entertainment, and couldn't be more excited for this event.
DAY 1 - AUGUST 23
12:45 - 15:45
Poster Session: A Novel Algorithm for Volumetric Amplitude Panning and Diffusion in Spatial Audio Production
Speakers: Kaushik Sunder, Saarish Kareer
16:40 - 16:55
Oral Session: Scalable and Efficient Prediction of Personalized Head Related Transfer Functions and Headphone Equalization Using Machine Learning Techniques based on Video Capture.
Speakers: Nikhil Javeri, Kaushik Sunder
DAY 2 - AUGUST 24
14:45-15:45
Panel 1: The Future of Immersive Audio: How Machine Learning and AI are Shaping the Landscape
Panel Members: Kaushik Sunder, Embody (Moderator); Andrea Fanelli, Dolby; Finnur Pind, Treble; Nikhil Javeri, Embody
DAY 3 - AUGUST 25
14:45-15:45
Panel 2 : Spatial Audio for Games: Exploring the Latest Techniques and Tools for Immersive Audio Experiences
Panel Members: Kaushik Sunder, Embody (Moderator); Nikunj Raghuvanshi, Microsoft; Remi Audfrey, Meta; Marielle Jakobsons, Embody; Victoria Dorn, PlayStation