INTRODUCING IMMERSE GAMING | HIVE
IMMERSE GAMING | HIVE

HEAR IT FIRST. HEAR IT ALL.
Launching June 3rd, 2021

Welcome to Immerse Gaming | HIVE, the future of gaming audio. This AI-Driven spatial audio gaming software integrates seamlessly with your favorite PC games and gaming headphones to bring you unmatched tactical advantage and sonic immersion. Engineered from a background of acoustic science and AI technology, and forged in the blue fires of virtual warfare and adventure, Immerse Gaming | HIVE breaks the limits of your PC audio experience. Prepare to enter a world of audio where every detail is spatially rendered with AI-Driven precision and human passion. Immerse Gaming | HIVE will be launching on June 3rd, 2021. It will be available on www.immerse.gg
We are proud to bring you to Immerse Gaming | HIVE.
Thank you for welcoming us into your gaming audio experience - Team Embody
SPATIAL AUDIO FOR GAMING
ACCURACY AND IMMERSION
Immerse is AI-driven audio software for headphones built with Embody's industry-leading HRTF modeling engine. Using a picture of your ear, Immerse turns your game's native multichannel audio into a personalized 360 degree spatial sound field while optimizing the audio clarity of your favorite gaming headset.
Experience an expanded and distortion-free sound stage with true multichannel audio output. Achieve unmatched directional accuracy, environmental awareness, and sonic immersion. It all starts with a picture of your ear.
AI-Driven Surround Sound
Industry-leading HRTF modeling engine creates a personalized 360 sound field using your game's native multichannel audio and a picture of your ear.
HIVE | Optimized for all Headsets
Sophisticated acoustic tuning algorithms shape a distortion-free and cinematic sound experience while maintaining the signature sound quality of your favorite gaming headset.
Game Genre Presets
From precision-enhancing directional awareness to visceral immersion, choose between 3 powerful game genre presets engineered specifically for a wide variety of genres including FPS, MMORPG, MOBA, Racing, and Fighting.
Sonar Map
Receive split-second visual confirmation of where sound is coming from with Sonar Map, a semi-transparent overlay which drag-and-locks to any part of your screen.
COMPATIBLE WITH ALL PC GAMES AND HEADSETS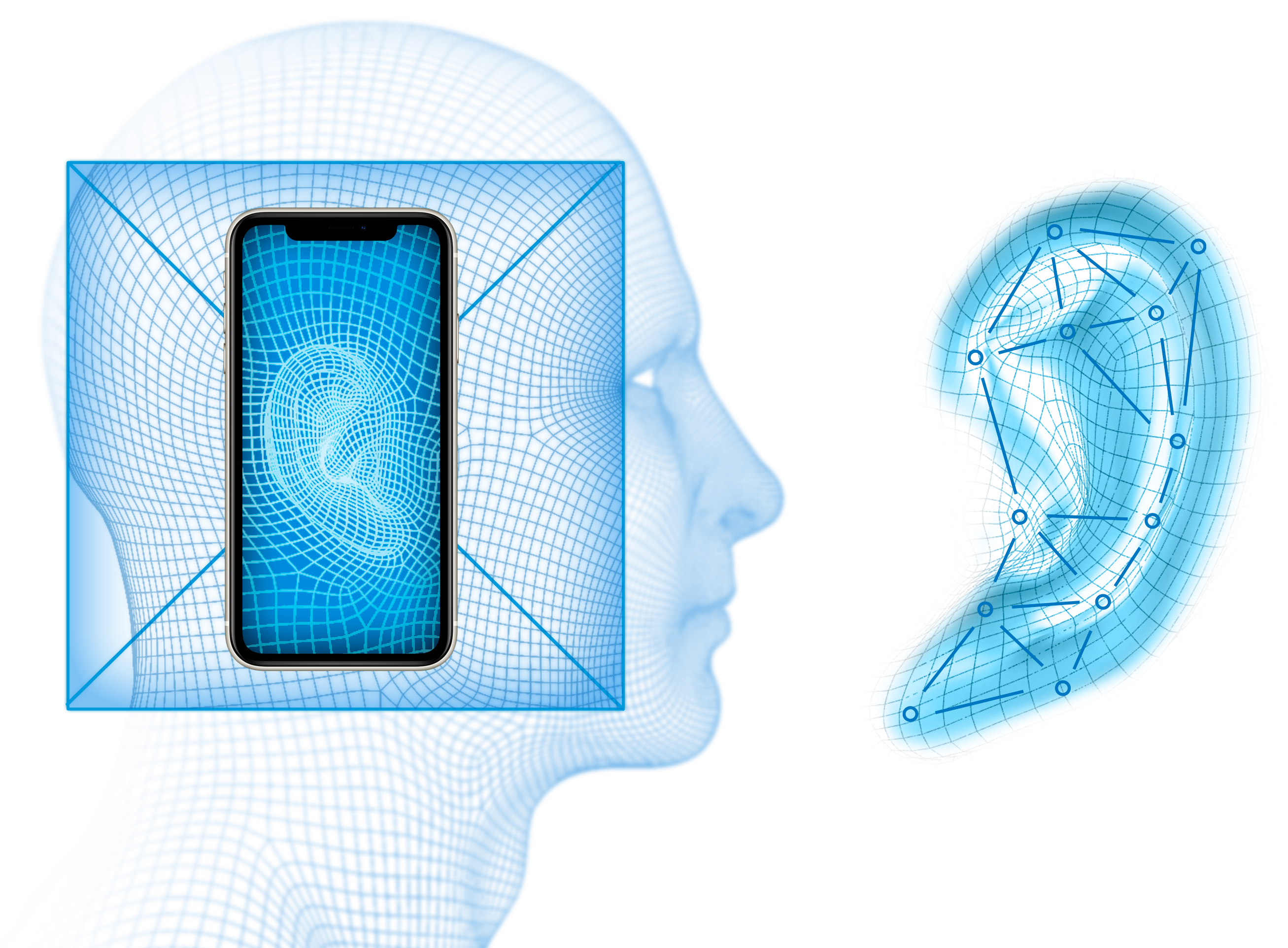 AI-DRIVEN SURROUND SOUND
PERSONALIZED HRTF PROFILE
Traditional surround sound solutions rely on generic impulse responses. Because they have no knowledge of your unique ear profile, these solutions sound mechanical and artificial. Immerse creates a personalized HRTF profile using a picture of your ear to craft a more natural and realistic surround sound experience on headphones.
Your Head Related Transfer Function (HRTF) profile is a complex algorithm which models how sound reflects around your head and ears before entering the eardrum. With it, you'll hear details with pinpoint directional accuracy as you battle your way through an uncharted spatial audio universe. Gaming with Immerse means transporting yourself into the most accurate, realistic, and immersive spatial listening environment ever created for headphones, in this galaxy and beyond.
CLARITY AND PRECISION
COMPETITIVE ADVANTAGE
You wouldn't drive with someone else's glasses, so why would you listen with someone else's ears? In a battle for timing, positioning, and skill, Immerse lets you outmaneuver your opponents with unnerving precision. Immerse is statistically proven to increase directional accuracy in FPS games by improving the audio clarity of your headphones and creating a personalized 360 degree sound field.
In high-intensity competitive settings, every second counts. Immerse renders every sonic detail with incredible precision so that you can swiftly hone in on your enemy's position long before they see you coming. Become a true hunter and climb your way up the leaderboards with greater speed and accuracy.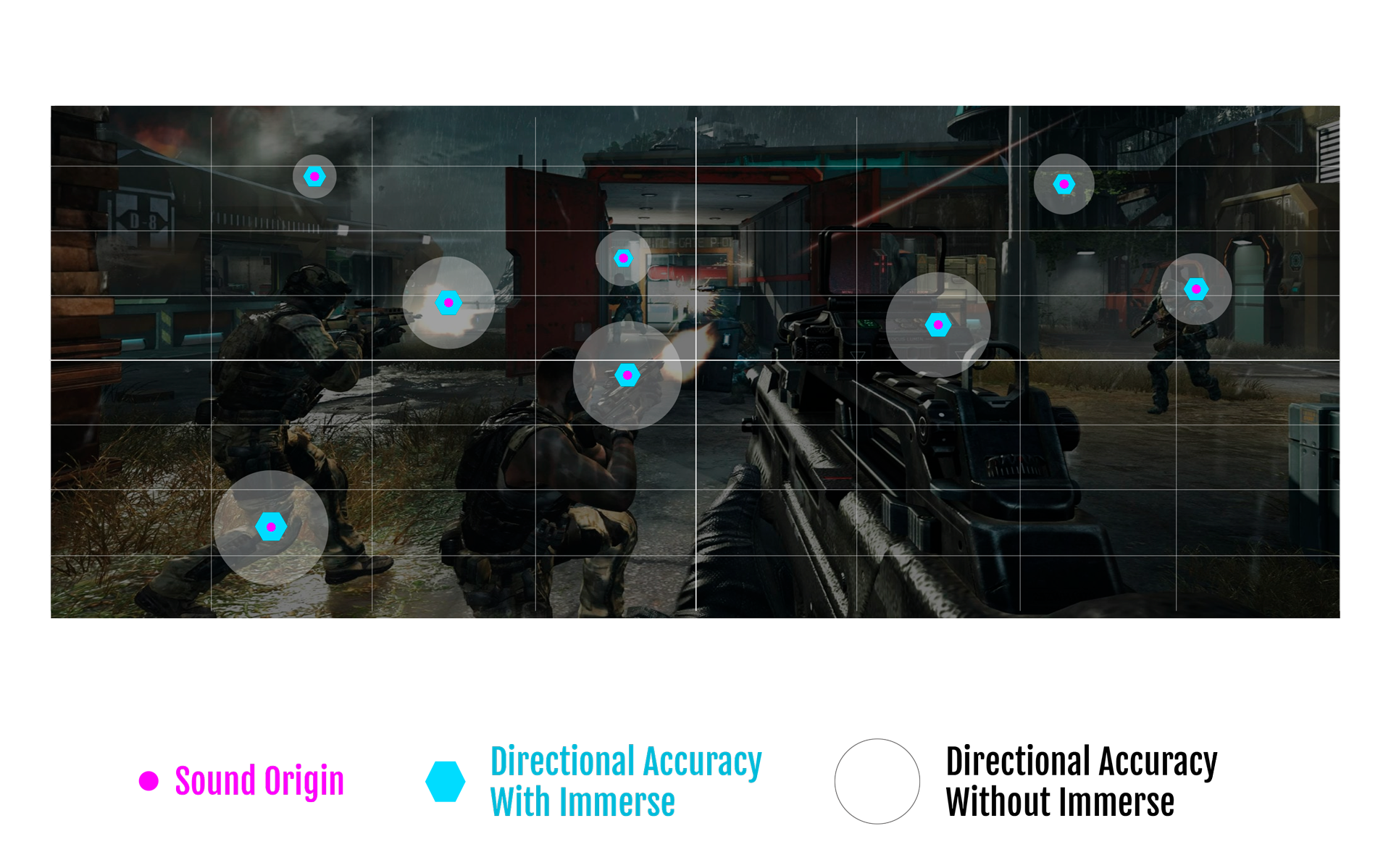 Optimized for Your Headset
HIVE
Immerse Gaming | HIVE includes presets for many of the most popular gaming headset brands including Audeze, Razer, HyperX, SteelSeries, Sennheiser and Corsair. Users who can't find their headset among the available presets can choose from one of three generic profiles corresponding to their style of headset.
Our renowned acoustic engineers have personally tuned each headset preset for the most optimal gaming experience. While other solutions use EQ to flatten your headset's signature response, Immerse preserves that sound signature while delivering a distortion-free cinematic audio experience that's been specifically engineered for your ears.
Game Genre Presets | FPS
DIRECTIONAL ACCURACY
Competitive FPS play requires dedication to honing your physical reaction time and technical accuracy. In this environment, audio clarity can mean the difference between life and death. In Immerse Mode, objects in your field of vision are pulled forward in the sound field while those outside your vision are spatialized for greater directional accuracy.
---
"If you already have them in your sights, you don't need to hear them coming. Immerse Mode adds depth to sounds outside your field of vision, ensuring nobody gets the drop on you from behind while you're lining up a headshot. Think of it like a partner watching your back, giving you the space you need to focus on your target without distraction. That's the power of Immerse Mode."
- Double Tap "DT", Smuggler and Part-time Barista at Galax-E-Bux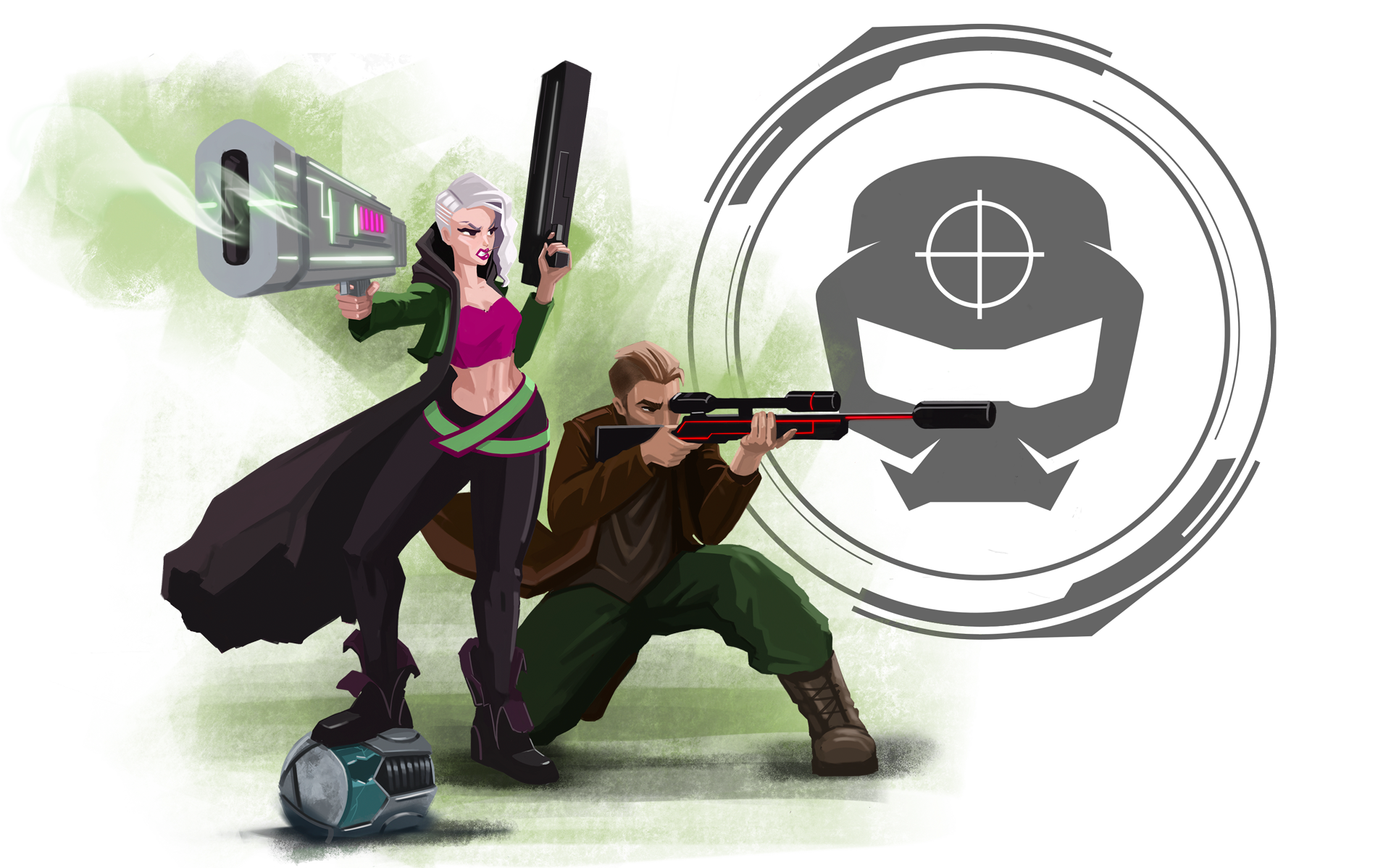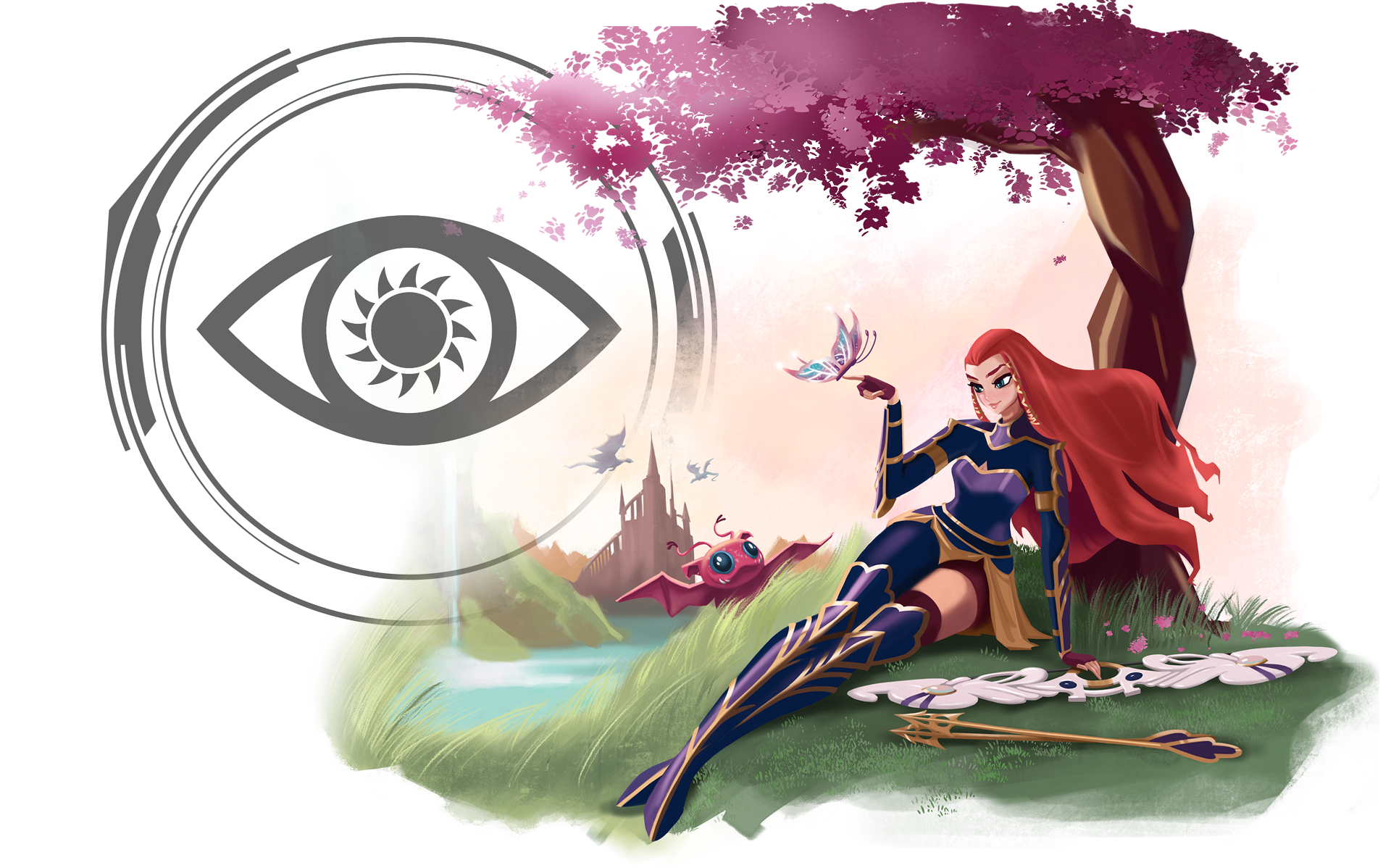 Game Genre Presets | MOBA & MMORPG
ENHANCED AWARENESS
From the deepest forests to the most terrifying and nebulous interdimensional rifts, awareness of your environment is critical to both your survival and your connection to the experience. In Awaken Mode, all of your audio will be spatialized equally to give you greatly enhanced awareness of your entire 360 environment, enabling you to hear that off-screen charge with perfect clarity while you line up your shot.
---
"Earth Mother, guide my arrows true. Awaken my senses so that I might know my enemy. Though they may hide in the distance beyond my sight, gift to me your boundless awareness that I might strike with wisdom and precision. From Earth, To Earth."
- Dhvani, Keeper of Sanctuary  
Game Genre Presets | RPG, Racing, & Fighting
VISCERAL INTENSITY
Sometimes you just want to feel the intensity of the strike, the roar of the engine, the biting ring of steel, the crunching of bone. In Close Combat Mode, the entire soundstage is pulled closer to your center to allow you to better feel the intensity of the fight or the thrill of the race.
---
"I live for close combat, to feel the violent energy passing through me. I focus on the sounds of the melee, and I dance to the cadence of my own racing heartbeat. I am the fight, I am visceral intensity, and my blades are instruments of music and death."
- Sentou, Death Dancer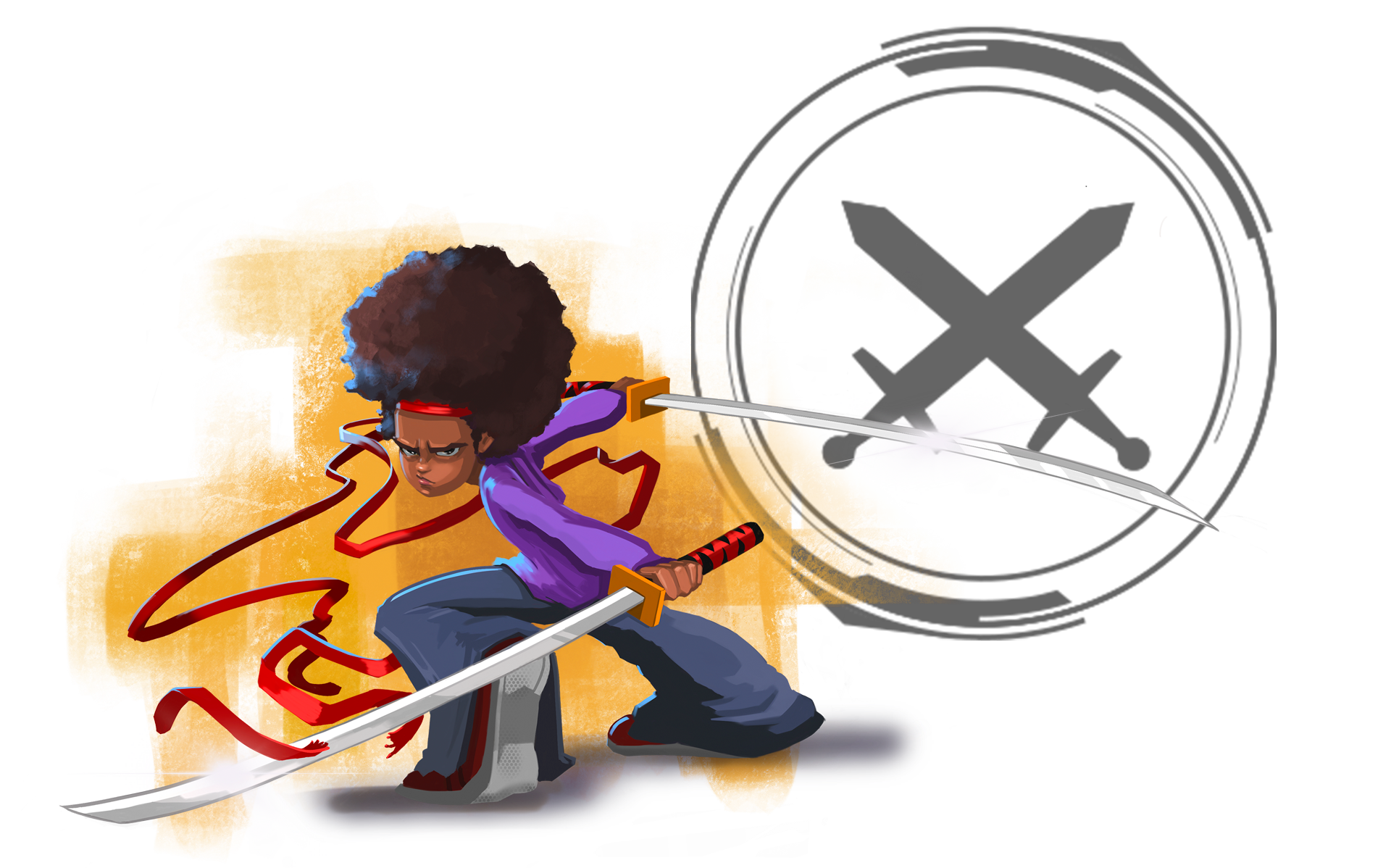 Sonar Map
HEAR IT, SEE IT
Sonar Map is your sound radar, a semi-transparent HUD that displays the direction of sound activity in your game. This in-game overlay can be dragged and locked to any position on your screen when playing in Borderless Windowed mode, making it easy to customize to your liking. By visualizing your opponents from their audio signatures, you'll receive added confidence that what you're hearing is accurate. Spot your enemies from far away and decimate them like a true pro.
STREAM READY
IMMERSIVE EXPERIENCE FOR YOUR AUDIENCE
Bring your fans into the game with you when you stream with Immerse Gaming. Whether it's a zombie creeping up from behind to bite your ear off or an explosion in the far distance notifying you where the fun is happening, your audience will hear what you hear. Upgrade your streaming audio into a viscerally immersive experience; stream now with Immerse Gaming.
SETUP GUIDE
Learn how to get up and running with Immerse Gaming Software
Thank you for your interest in Immerse Gaming | HIVE, the future of gaming audio. There's a lot more to learn about Immerse, so we hope you'll download it and give it a try! We would love to hear how Immerse enhances your gaming experience.
Happy Gaming, Team Embody