Personalized Spatial Audio
IMMERSION AND REALISM
Elevate the sound experience of your content with Immerse, the first Artificial Intelligence-driven personalized spatial audio solution in the world. With Immerse, your soundscapes will feel more real and believable and your audience will be truly transported to the world you are creating. The next generation of spatial audio has arrived, hear the excitement it can bring to your world!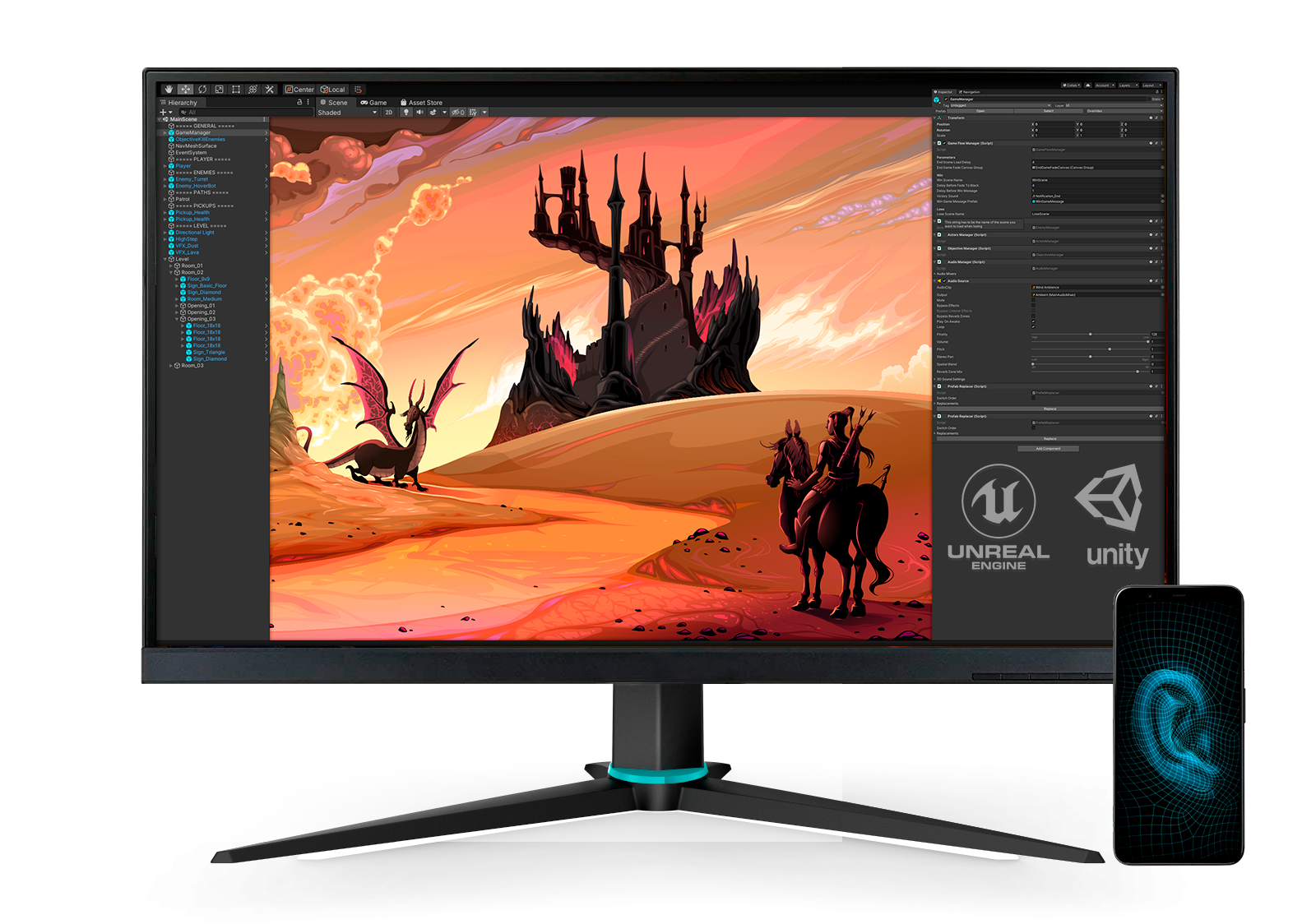 Elevate your game with PERSONALIZED Spatial Audio
GAME ENGINE PLUGINS
Harness the power of Artificial Intelligence to create truly immersive sound worlds with Immerse, the first personalized spatial audio solution direct to your game engine. Add the Immerse plugin to your Unity or Unreal project and you will hear footsteps and voices become distinctly separated with enhanced spatial definition and superior directional accuracy. Build with Immerse and achieve your creative story-telling vision in true spatial sound.
Specifications:
Platform: PC, Console, VR, and Mobile
Audio Format: 1st, 2nd, or 3rd Order Ambisonics
BRING IMMERSION TO Audio Middleware
AUDIO MIDDLEWARE PLUGINS
The first personalized spatial audio solution to harness all the benefits of your audio middleware. With Immerse, you will hear all the details of your sound design with the accuracy of spatial sound tuned to your physiology. Bring realism to your soundscapes, and declutter a crowded sound scene with enhanced spatial definition. From the most epic to the smallest details, every sound will be heard with clarity.
Specifications:
Compatibility: Wwise, ADX2
Platform: PC, Console, VR, Mobile
Audio Format: Surround, Atmos and Ambisonics (1st, 2nd, or 3rd order)
One Plugin, Infinite Possibilities
MULTIPLE WORLD
CLASS STUDIO
Access Multiple world-class studios, not just one. Min in a studio that matches your style. Monitor it in multiple studios to gain the confidence that your mix sounds great everywhere.
IMMERSE MODE
PRECISION & ACCURACY
Unleash your inner predator and hunt down your enemies with unnerving precision. With Immerse Mode you'll hear your opponent's position with pinpoint accuracy, giving you the competitive edge you need to climb to the top of the leaderboards.