IMMERSE SPATIAL AUDIO
PRODUCTION SUITE
One-Stop-Shop for Spatial Audio Production: Contains all the tools you need to mix, monitor, and render surround sound or spatial audio content on headphones inside of Pro Tools
Intuitive 3D interface: Streamlined spatial mixing with the ability to understand your entire soundscape at-a-glance
Comprehensive library of virtualized professional sound studios: Including 5 Cat Studios, The Magic Mix Room, Avid's Immersive Audio Lab, and more
Immerse HRTF Personalization: Highly accurate virtual monitoring on headphones with realistic crosstalk and depth of field
Includes 3 AAX Plugins: Immerse Panner, Immerse Visualizer, Immerse Virtual Studio


Standalone Version:

Use Immerse Virtual Studio Standalone and the Immerse Audio Bridge to monitor outside of Pro Tools and from the Dolby Atmos Renderer

More than 50 headphone EQ profiles: Sennheiser, Audeze, beyerdynamic, Audio-Technica, Apple, and more

Only for Pro Tools
Auto-renews, cancel anytime. Own after 24 payments.
10-year license with free upgrades
IMMERSE SPATIAL AUDIO PRODUCTION SUITE
ONE-STOP-SHOP FOR Surround Sound and SPATIAL MIXING
Everything you need to create spatial audio is now integrated with Pro Tools. Immerse Spatial Audio Production Suite is a unified virtual workflow for Surround Sound and Spatial mixing for Film, Television, Music, and Gaming. Powered by the Immerse AI Engine and designed for an intuitive user experience, this production suite offers industry veterans and newcomers alike a better, faster, and easier way to mix their next immersive masterpiece.
What is the Immerse Suite?
Easy-to-use
With an intuitive layout, beautiful 3D graphics, and a unified workflow it's easier than ever to create spatial audio.
Mix SPATIAL on Headphones
Use your personalized HRTF and preferred EQ preset to accurately monitor spatial audio and surround sound on headphones.
Virtual Studio Experience
Gain access to a comprehensive library of virtualized professional sound studios, all certified by legendary sound engineers.
COMPREHENSIVE ALL-IN-ONE WORKFLOW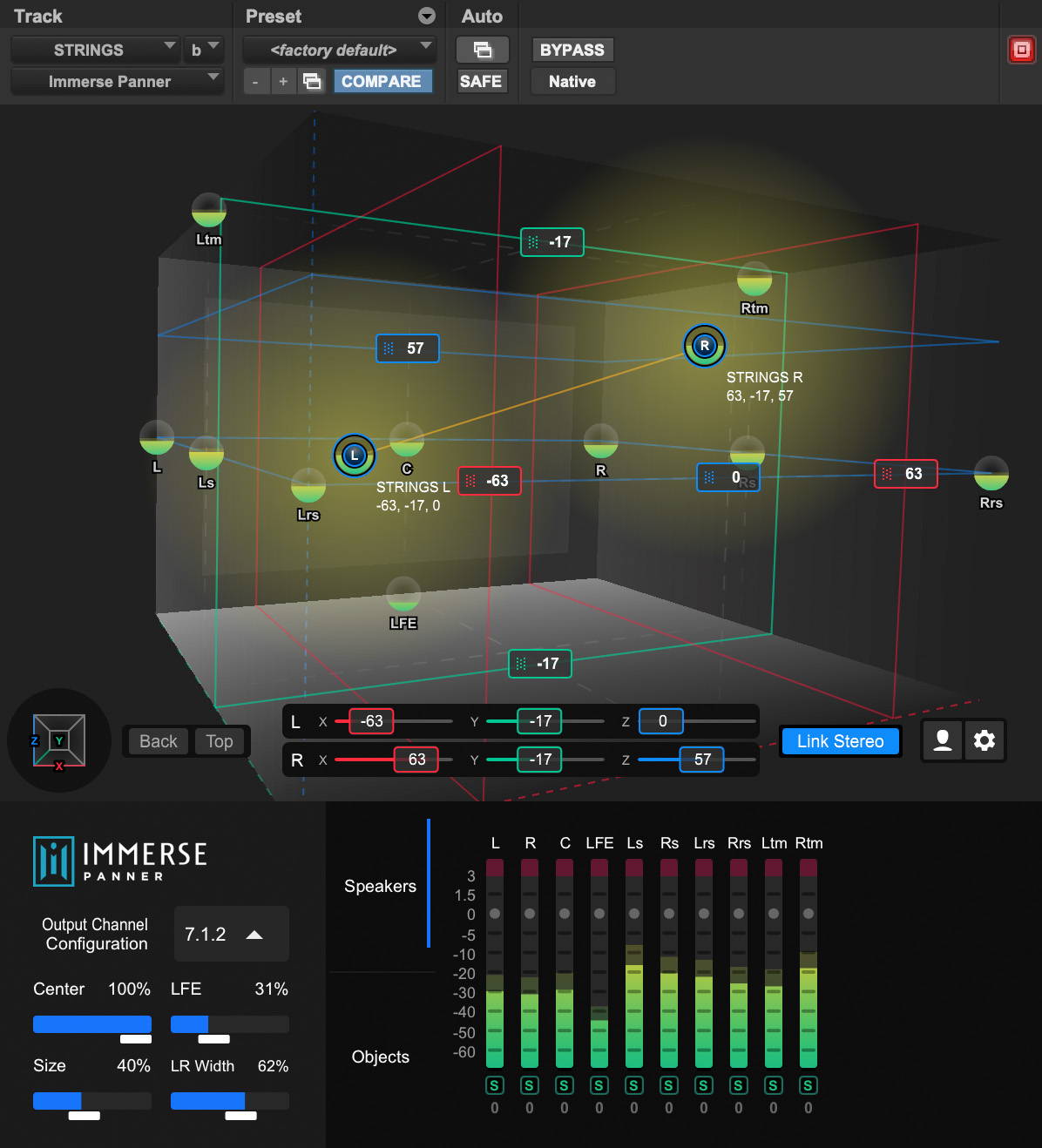 IMMERSE PANNER
MIX IN 3D
Pan mono or stereo sound sources inside a colorful and intuitive 3D UI with support for a wide variety of multichannel output formats.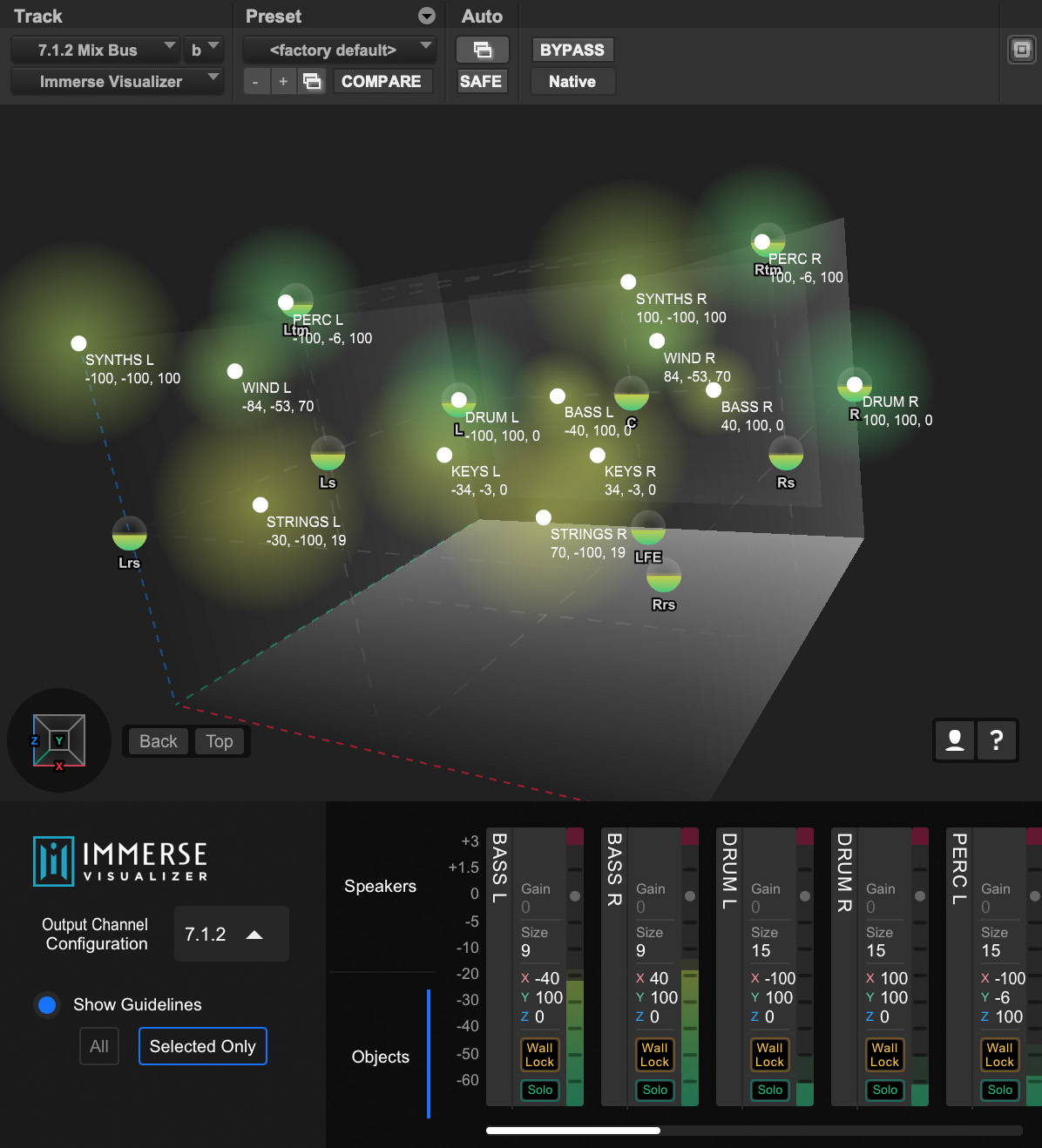 IMMERSE VISUALIZER
ADJUST AT-A-GLANCE
See your entire spatial soundscape at a glance and make quick adjustments to the placement, volume, and dispersion of all your sound objects inside a single 3D interface.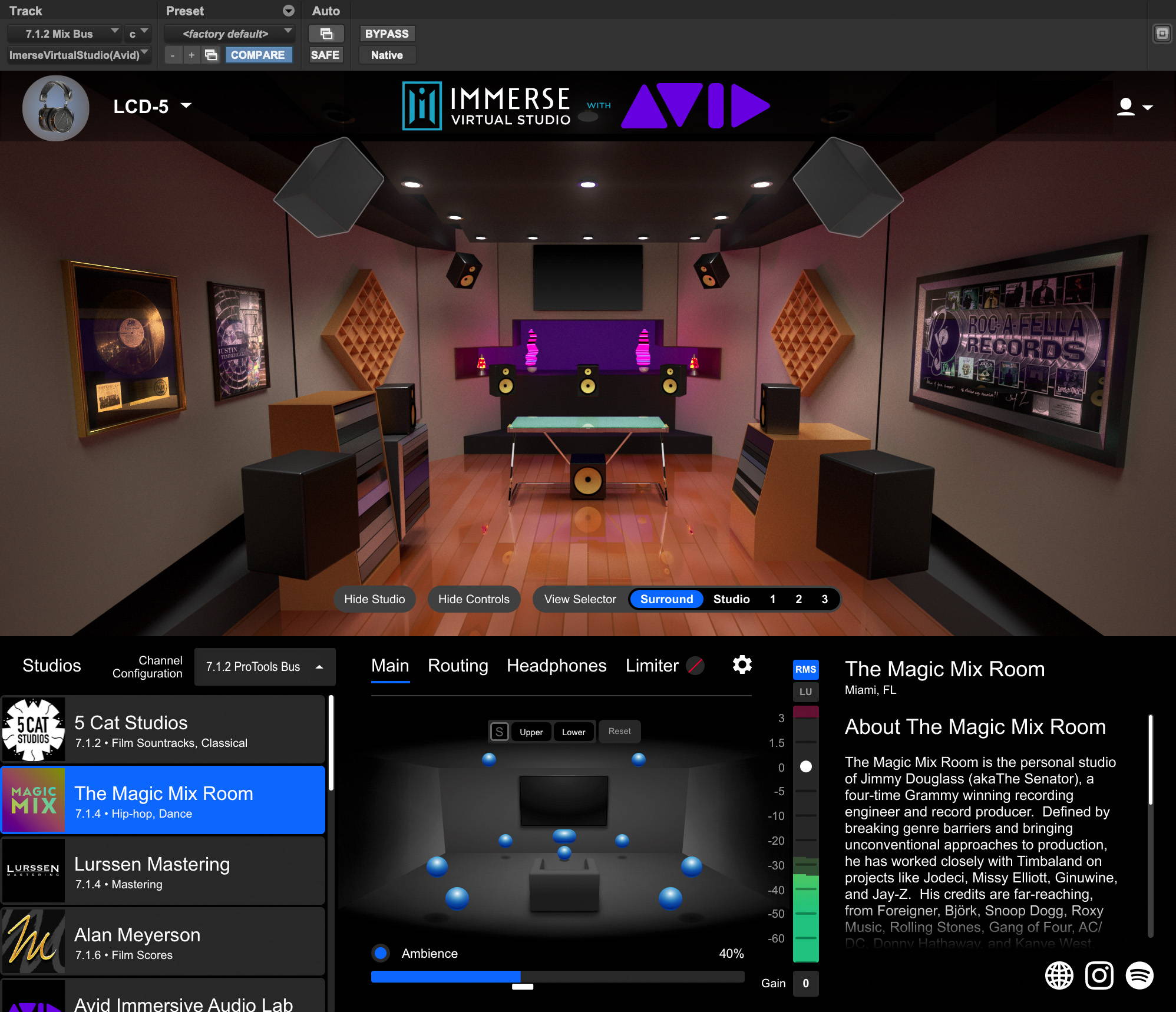 IMMERSE VIRTUAL STUDIO
MONITOR IN SPATIAL
Monitor your spatial mix on headphones using your personalized HRTF. Choose from a comprehensive library of professional sound studios with full accoustic and signal chain virtualization.
IMMERSE AI ENGINE
PERSONALIZED SPATIAL AUDIO
Head Related Transfer Functions (HRTF) are the mathematical representation of "You" inside a spatial audio environment. Have you ever monitored Surround or Spatial content on headphones and thought, "this doesn't sound right?" That's because you were listening with a generic HRTF, which doesn't accurately represent your unique physiology.
The Immerse AI Engine creates a completely unique HRTF profile just for you, using only a picture of your right ear. This is the key to experiencing realistic depth, height, and positional detail while monitoring spatial audio on headphones.
UNIFIED VIRTUAL PRODUCTION WORKFLOW
An Easier Way to Create Immersive Audio
Whether you're working in Film & TV, Gaming, or Music, Immerse Spatial Audio Production Suite has all the tools you need to hit your next production deadline.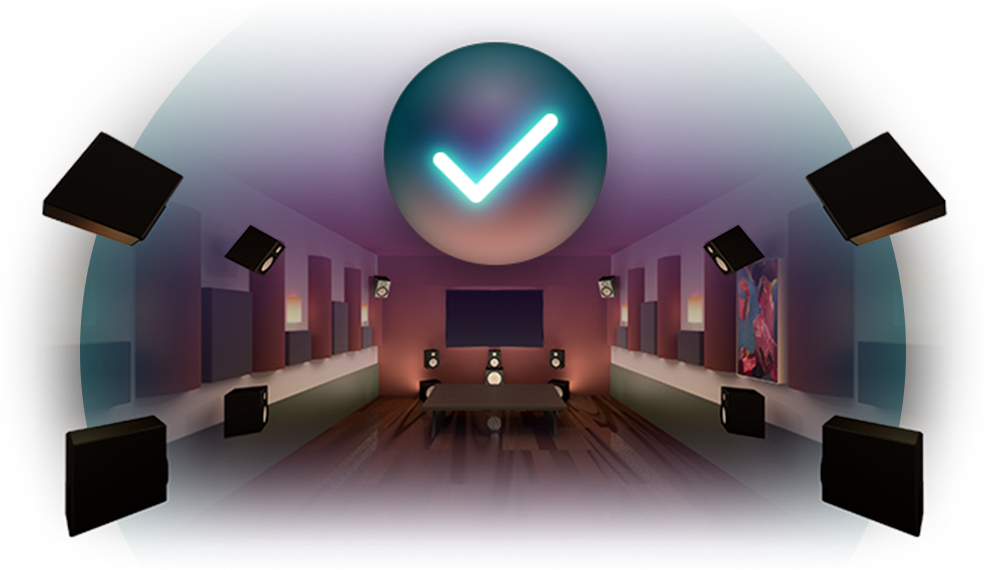 Streamline the
Review Process
Export your spatial mix as two channel binaural output that can be reviewed on any pair of headphones.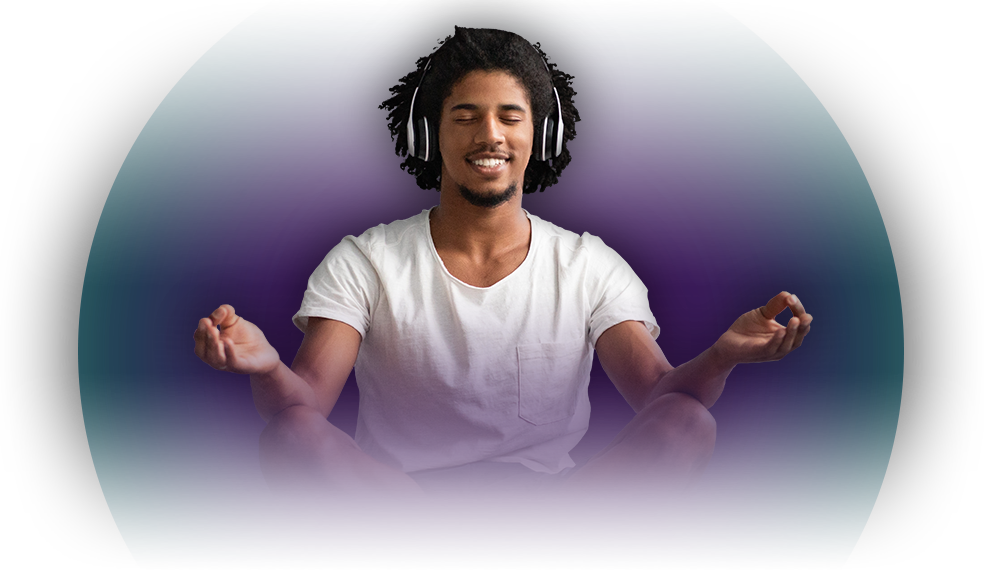 SCALE UP PRODUCTION
Work on multiple immersive projects in parallel without being bottlenecked by studio availability.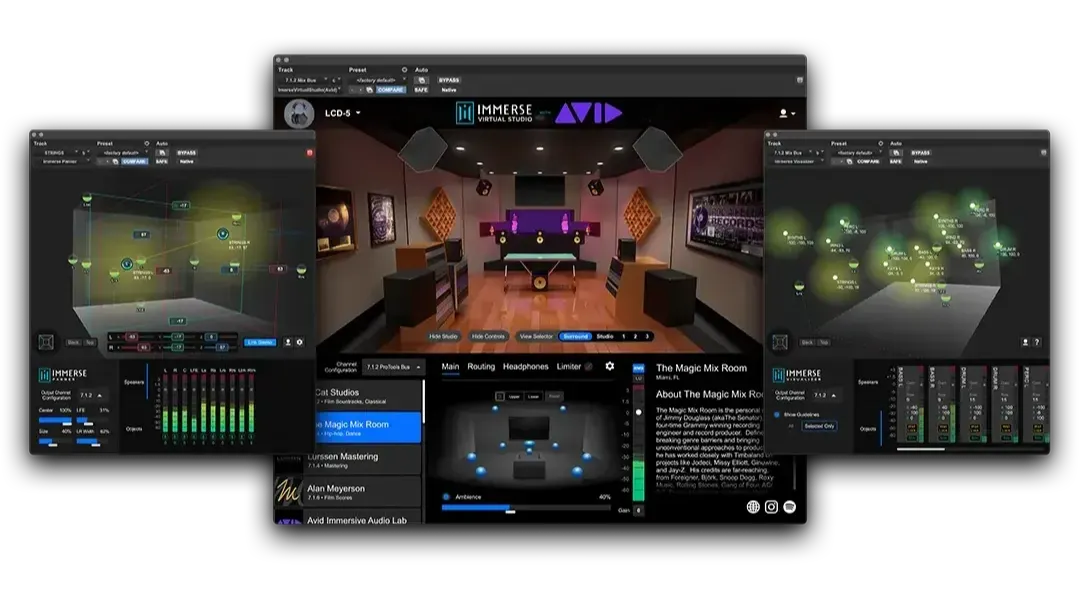 WORK SMARTER
No more fragmented workflows. Learn one set of easy-to-use tools to create any immersive deliverable.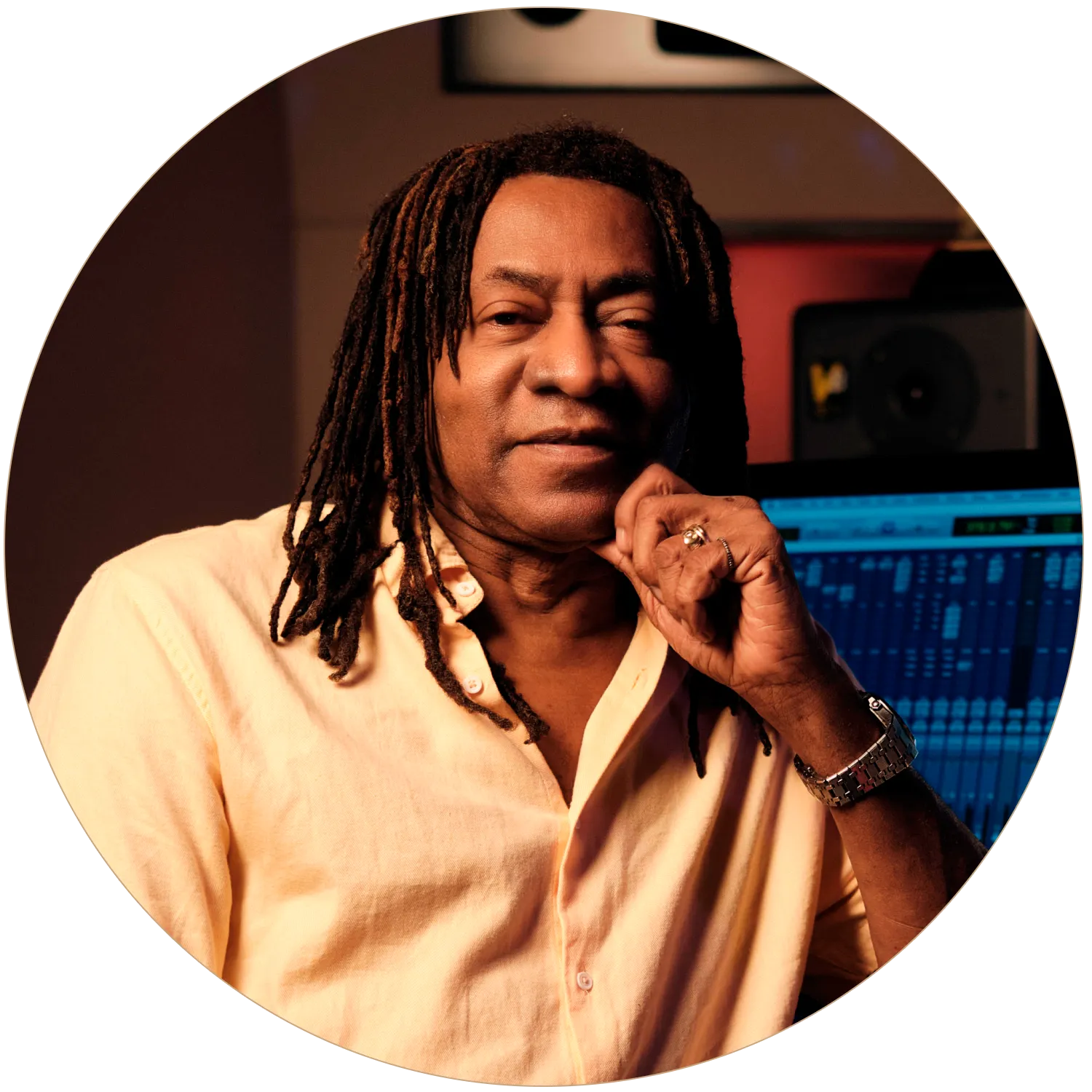 Jimmy Douglass "The Senator"
"Immerse is not only the future, but it's also the present. This is the place to be. It's the technology to embrace. And I say go for it."
4-time Grammy winning mixer, producer and engineer. Collaborations include Jay-Z, Justin Timberlake, Missy Elliot, Pharell Williams, AC/DC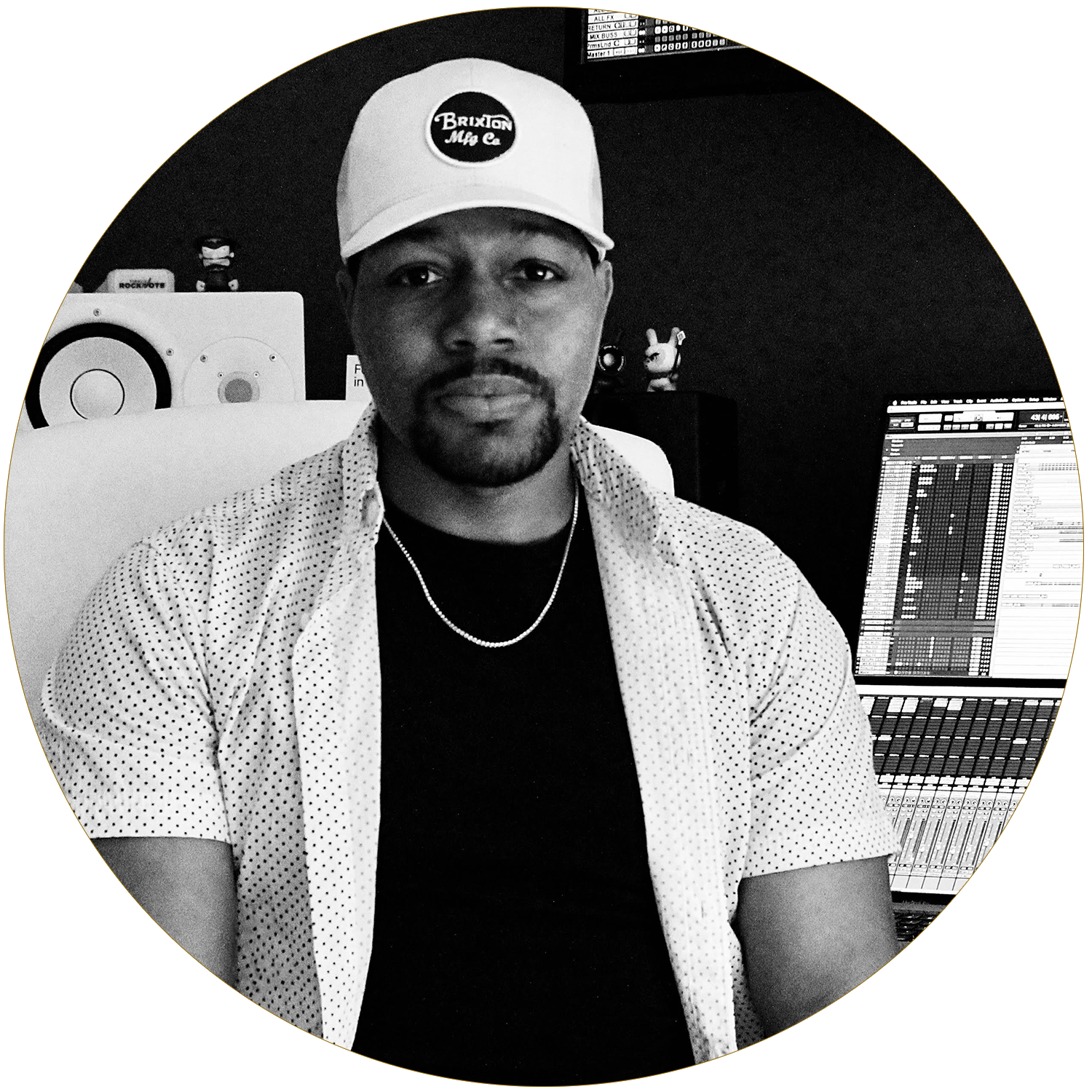 Albert "Lamont Sincere" Brown
"I've been using Immerse Spatial Audio Production Suite on all my recent Dolby Atmos mixes, and it has been my secret sauce ... Best speaker plugins ever."
Mix Engineer for: Wiz Khalifa, Duke Duece, Lil Yatchy, GloRilla
COMPREHENSIVE STUDIO LIBRARY
Click below to learn more
Studio M
Alan Meyerson
Genre: Film Score Mixing
Channel: 7.1.6
X-men, Captain Marvel, Lion King, Dunkirk, Dune, Interstellar, Pirates of the Caribbean, Gladiator
Lurssen Mastering
Gavin Lurssen and Reuben Cohen
Genre: Music, Film, and TV Mastering
Channel: 7.1.4
Foo Fighters, Ben Harper, Alison Krauss, Game of Thrones, The Mandalorian, Black Panther
The Magic Mix Room
Jimmy Douglass
Genre: Hip-hop, Dance, Rock
Channel: 7.1.4
Foreigner, Bjork, Snoop Dogg, Rolling Stones, AC/DC Timbaland, Kanye West
5 Cat Studios
John Powell
Genre: Film Soundtracks, Classical
Channel: 7.1.2
Happy Feet, Ferdinand, Solo: A Star Wars Story, How to Train Your Dragon, Call of the Wild
Igloo Studio E
Gustavo Borner
Genre: Live Music, Latin, Post-production
Channel: 7.1.4
Birdman, Guardians of the Galaxy Vol. 2, Deadpool 2, Diego Torres, Vicente Fernandez, Antonio Sánchez
Echo Bar Studio A
Erik Reichers
Genre: Pop, Hip-Hop
Channel: 7.1.4
BTS, Snoop Dogg, Dr. Dre, The Neighbourhood, Herbie Hancock, Gladys Knight, Paul Jackson Jr.
Avid Immersive Audio Lab
Immersive R&D
Genre: Immersive Music
Channel: 7.1.4
A hub for cutting edge immersive solutions and training in pop, film, techno, world music, and everything in between
Diamond Live Room
Academic Institution
Genre: Live Music
Channel: 9.1.6
SAE is recognized for providing industry leading facilities and education in Audio, Digital Film, and Entertainment
Anechoic Chamber
Academic R&D
Genre: 360 Immersive Audio
Channel: 9.1.6
Completely controlled acoustic environment ideal for audio R&D with no room ambience or speaker coloration
Igloo Studio A
Gustavo Borner
Genre: Post-production, Live Music
Channel: 5.1
Rick Martin, Suicide Squad, La La Land, Narcos, Babylon, Pinocchio, Destiny, Fallout 4, Fortnite
Outpost Studio A
Dave Nelson
Genre: Film Mix, Post-production
Channel: 7.1
X-men Apocalypse, Lost in Translation, Valley of the Sun, Winnie, Back 4 Blood, Dead Space 2, Assassin's Creed Black Flag
Echo Bar Studio B
Bob Horn
Genre: Hip-hop, R&B, Pop
Channel: Stereo
Usher, BTS, Timbaland, Swae Lee, Michael Jackson, Lupe Fiasco, Far East Movement, Brian Culbertson, Everclear
Spitfire Studio
Warren Huart
Genre: Rock, Pop
Channel: Stereo
The Fray, Daniel Powter, Travor Hall, Korn, James Blunt, Better Than Ezra, Matisyahu, Aerosmith, Howie Day
Music Friends Studio
Carlos de la Garza
Genre: Rock, Pop
Channel: Stereo
Paramore, Hayley Williams, Best Coast, Bad Religion, Young the Giant, M83, Cherry Glazerr, Jimmy Eat World, Cold War Kids
Diamond Control Room
Academic Institution
Genre: Live Music
Channel: Stereo
SAE is recognized for providing industry leading facilities and education in Audio, Digital Film, and Entertainment
EXPORT YOUR SPATIAL MIX
Share it with the world
Creating and sharing spatial audio should not mean locking yourself into complicated proprietary tools or migrating to new distribution platforms. You can use Immerse Virtual Studio to export your spatial mix binaurally and upload it to any platform that supports stereo audio.




Immerse Audio Bridge
MULTI-CHANNEL AUDIO ROUTING BETWEEN APPLICATIONS
Immerse Audio Bridge (IAB) is a multi-channel virtual audio cable which allows you to route up to 16-channels from one application to another. Create hassle-free loopback or pass audio between applications with no additional setup required. IAB comes included with the standalone version of Immerse Virtual Studio.
| | |
| --- | --- |
| Software Format | Plug-in and Standalone |
| Plug-in Types | AAX |
| Max Sample Rate | 192KHz |
| | |
| --- | --- |
| Win OS | Windows 10 and 11 |
| Mac OS | 10.9.x and above. |
| Apple Silicon | Mac M1, M1 Pro, M1 Max, M2 |
Minimum System Requirements
| | |
| --- | --- |
| Processor | Intel Core 2 Duo |
| Memory | 4GB |
| Disk Space | 650MB / 1GB (Mac) |